Annual General Meeting - 24 May 2016
Annual General Meeting - 24 May 2016
This year's Annual General Meeting was held at the Brooklands Museum, Weybridge, Surrey on Tuesday 24 May 2016.

The meeting was opened with a presentation from David Strydom, the new Editor of the Contract Flooring Journal. David introduced himself to the industry and shared his thoughts and ideas on how a trade journal can support a specialist sector in the 21st century.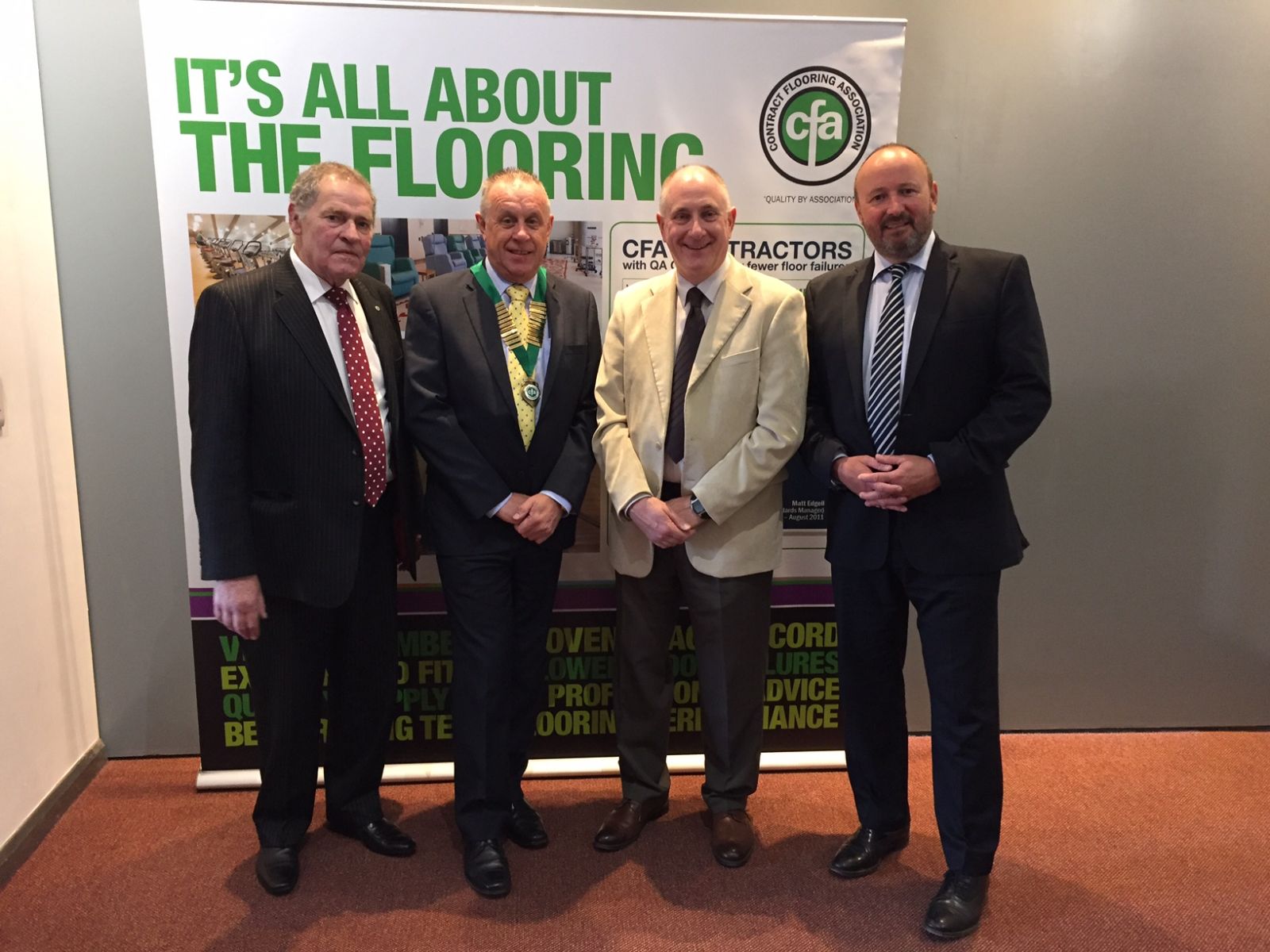 We are pleased to confirm that following the elections David Hibbert of F Ball & Co Ltd was elected to serve as President, Garry Bateman of Forbo Flooring UK Ltd was elected to serve as Vice-President and John Butler of John Butler Contracts Ltd was re-elected to serve as Treasurer. Tony Mathé of Hillside Contracts Ltd is now the Immediate Past President. (see picture: from left to right - John Butler, David Hibbert, Garry Bateman and Tony Mathé).

Council members re-elected to serve for a further term were Alan Gayle of A G Flooring Ltd, Neil Kear of J & S Flooring Ltd, Scott McKenna of McKenna Flooring Ltd and Kenton Penny of Uzin Ltd.

The Council for the forthcoming year is:

David Hibbert - F Ball & Co Ltd - President
Garry Bateman - Forbo Flooring UK Ltd - Vice-President
John Butler - John Butler Contracts Ltd - Treasurer
Tony Mathé - Hillside Contracts Ltd - Immediate Past President
Martin Cummins - Bostik Ltd
Alan Gayle - A G Flooring Ltd
Wayne Haslam – Floorstock Ltd
Neal Inwood - Consultant
Neil Kear - J & S Flooring Ltd
Hamish MacGregor - MacGregor Flooring Co Ltd
James Martin - Interface
Scott McKenna - McKenna Flooring Ltd
Brian Packer - 3D Flooring Ltd
Kenton Penny - Uzin Ltd
Bill Saunders - Floorcraft (Reading)

Co-opted Council Members are:

Alan McEwan - F Ball & Co Ltd
Beverley McFarlane – Loughton Contracts plc
George Rose - Honorary Member
The meeting closed with a presentation by Calvin Everdell, Senior Business Development Manager, of Safety Services UK Ltd. Calvin gave a top level review of what a specialist contractor needs to do, from a health and safety perspective, to effectively and legally run their business. He also explained how Safety Services UK can help CFA members achieve this by using the CFA helpline service currently available to an enhanced service.